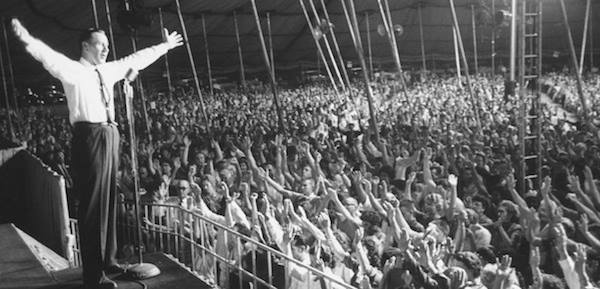 Do you know secular companies like Microsoft and many others, now have "EVANGELIST" as a job title, ie Tech Evangelist, Developer Evangelist, etc. The secular world has "stolen" this 5-fold ministry title, while the church has in many circles seemingly put it on a shelf.
When was the last time your "apostolic" church invited an EVANGELIST to minister on a Sunday service?
For many, it has been a long time. And maybe that is why there are not many new souls being saved in those churches.
I believe churches need to invite in anointed EVANGELISTS sometimes not for a crusade for the lost, but one for the saints.
If the saints have lost their passion for the lost, and are not actively sharing their faith, then an EVANGELIST is needed to release and impart his anointing and grace with passion to the congregation.
The result will be repentance, and a new burning zeal and passion for souls.
I know we have been focusing these past years on the restoration of the gift of the apostle and prophet back to the church, and rightly so.
But how many can agree with me that it is time for the restoration of the gift of the evangelist to the body of Christ? And for a fresh passion for souls to come to the church in America?
Let's not disrespect the evangelist, but put "honor" on this precious gift again.
After all – evangelism IS the primary way the Kingdom of God advances, and the church of Jesus Christ grows.
"Timothy…do the work of an evangelist…" 2 Timothy 4:5
This entry was posted on Tuesday, June 10th, 2014 at 1:00 am
You can follow any responses to this entry through the RSS 2.0 feed.
Tags: evangelist
Posted in: Church, Leadership