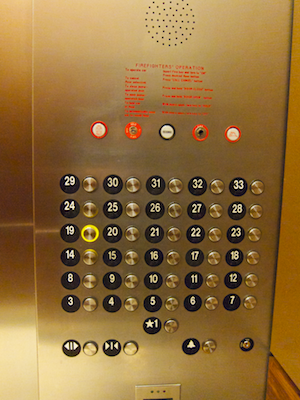 SHABBAT SHALOM!
YOU CAN'T GET MUCH MORE RELIGIOUS THAN THIS:
I have been to Israel for ministry close to 20 times in the 1980's and 90's, and remember the first or second trip staying on the 25th floor of a hotel in Jerusalem and having an extremely frustrating experience.
It was a Saturday morning and I got on the elevator to come down to the lobby restaurant for breakfast. The elevator stopped on Floor 24, 23, 22, 21, 20, 19………it stopped on every floor and took almost 10 minutes to get to the lobby.
I was so upset and went to reception to complain about a broken elevator they needed to fix.
They apologized and said "but sir, next time please use the other elevator which is for tourists. You got in the "Shabbat" elevator which is pre-programmed to open on every floor going up and down, because our orthodox rabbis have concluded that pushing a button on an elevator on the sabbath is work."
I probably said something like: "YOU GOT TO BE KIDDING ME!!!"
And you wonder why Jesus was so frustrated with the Pharisees.
So if you happen to be in Israel from sundown Friday to sundown Saturday on the top floor of a hotel, make sure you get in the "tourist" elevator or take the stairs.
SHABBAT SHALOM!