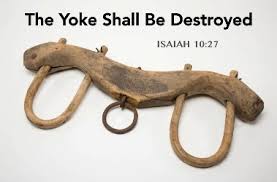 SOME OF YA'LL JUST TOO SKINNY IN THE SPIRIT – TIME TO FATTEN UP!!!
I know we on all these latest diet crazes in America trying to figure out how we can lose weight without pushing away the plate. But as far as your spirit is concerned – well, some folks need to stop pushing away the plate and feed on the Word by the Spirit.
Some Christians are just too "skinny" in their spirit. And as a result, demonic assignments come and find an opportunity to slip a yoke of bondage on the believer and enslave him or her in some area.
But in Isaiah 10 27 (KJV) it says: "And it shall come to pass in that day, that his burden shall be taken away from off your shoulder, and his yoke from off your neck, and the yoke shall be destroyed because of the anointing."
The anointing will destroy the yoke of bondage/slavery!!
But I like how the NIV reads: "…the yoke will be broken because you have grown so fat."
Its a spiritual yoke – a demonic yoke – but if you GET FAT IN THE SPIRIT, the yoke will break off of you!!!
Ditch the spiritual skinny jeans – time for some XXXL overalls in the spirit! Time to fatten up in the spirit. Its time for the yoke to come off!!!
This entry was posted on Tuesday, January 28th, 2014 at 4:16 pm
You can follow any responses to this entry through the RSS 2.0 feed.
Posted in: Inspiration